KOLKATA-The city represents 'culture' in all its glory. It is said to be the cultural state of India and is rightly called so as it is colored in many hues. But above all Kolkata is a beacon for food lovers!  When it comes to food Kolkata is more like a salad bowl wherein all its ingredients retain their individual tastes as opposed to that of a melting pot wherein all the ingredients blend together to offer one single flavor! If one wants to taste the food of India at one place then Kolkata is the place to go to. Kolkata offers a wide range of delicacies and the experience of walking down a street in Kolkata enveloped in the mouth watering smells wafting from various delicious delicacies that the city has to offer, is one of pure delight!!
Though Kolkata is known mostly for its non vegetarian food items it has a whole load of amazing and taste buds satisfying vegetarian food items to offer. Following are a few quirky vegetarian foods that Kolkata presents:
1. PUCHKAS!!
When you are on an eating spree, puchkas are the right way to start. You will get gupchups and pani puris everywhere across the country but you will get puchkas and the BEST only in Kolkata. These crisp puffed puris filled with potatoes and spicy tamarind water explodes into the mouth releasing a burst of flavors! To get these make a beeline for the Vivekanand Park.
2. CHOCOLATE MOMOS
The traditional Tibetan momo is a savory dumpling stuffed with vegetables or meat but the Kolkatans give it a sweet twist by filling these momos with
Luscious chocolate that melts into your mouth as you bite into these steaming dumplings! Every WOW Momos counter has these.
3. DAHAKAI PARATHA
This delicacy made of wheat and maida kneaded into dough, caught my attention because of its intricate appearance as it has a whorl like that of a rose in the middle and has a flaky texture. It is served with an assortment of subzis or gravy which complement each other perfectly! It is found in a very few shops including Balaram Mullick & Radharam Mullick Sweets in Bhawanipore.
4. GHUGNI CHAAT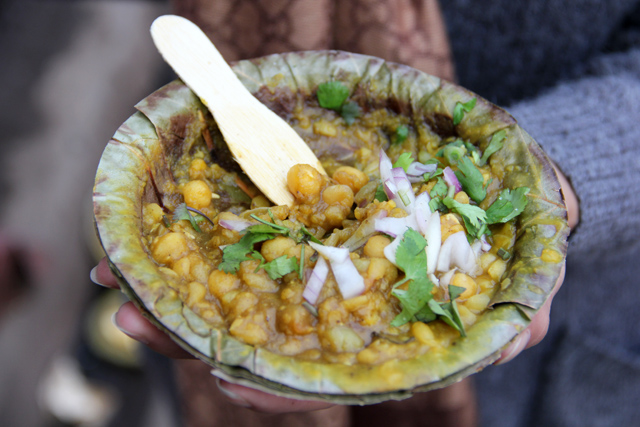 When I had been to Kolkata for the first time I had tasted ghugni chaat for the first time and it has stayed with me ever since! Its amazing how a simple preparation of boiled chanas and chickpeas laced with spices can taste so mind boggling! These are offered by a lot of vendor stalls dotting the streets of Kolkata.
5. CHILLA & DAL PAKORIS
If you are having an urge for Marwari delicacies then head right away for Vardhan Market at Camac Street. It offers some of the most lip smacking vegetarian food items!
6. MISHTI DOI
As they say, when in Kolkata eat what Kolkatans eat! If you have a sweet tooth and are in Kolkata then you should definitely dig in mishit doi which is a delicacy of Kolkata. It is frozen yogurt and gets its sweetness from jaggery which is a healthier substitute of sugar.
(Visited 129 times, 1 visits today)